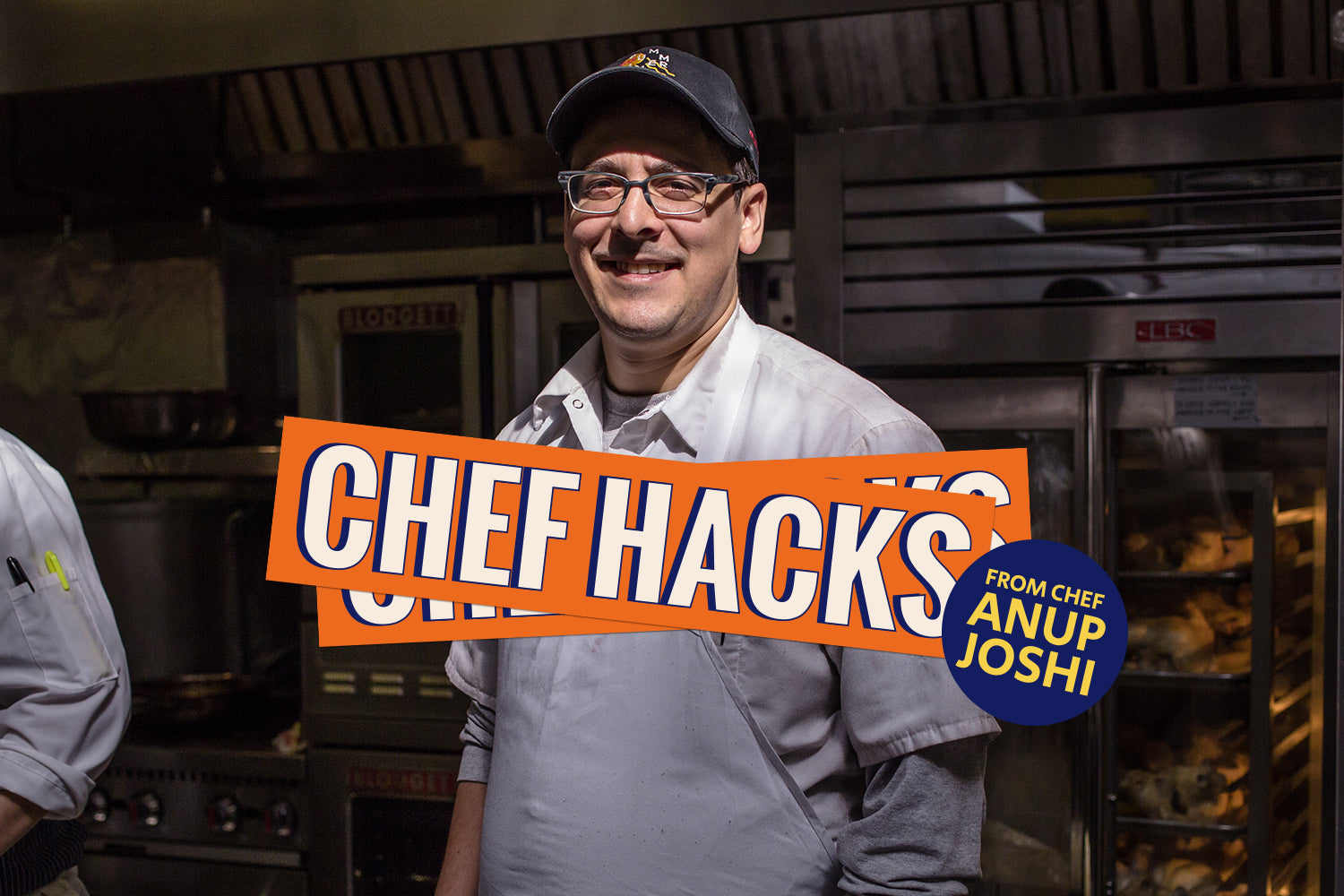 Kitchen Hacks from Chef Anup
0 comments
Chef Anup shares what he's excited about on this week's menu, and how he's been serving up these bundles at home...

1. Any personal favorites on the menu this week?

Since we started making our own soy milk it has opened up a new level of vegan soup making for us. Even the nicest soy milk you can source comes loaded with additives and preservatives to stabilize it for transport and use. Our soy milk is soybeans and water. It feels good to cut those ingredients lists back down to size and make a truly "from scratch" vegan product.

2. What's a good combination from this week's menu that someone might not think of at home?

The saffron aioli will go really nicely with the omelette bites and the crudite, but if you add it to your mixed greens with a squeeze of lemon, you have a bright creamy salad dressing. Chop up some vegetables from your crudite, add a few spoonfuls of potato salad, and you have a hearty, vegan, mixed green salad.

3. Whats something you do at home to get more life out of certain dishes or things you use from the pantry to enhance the meal?

At home I will adjust salt to our taste, as we don't take our seasoning to the edge here at the kitchen. I use red pepper flakes and garlic if I am heating up tomato sauce for pasta, and you can't go wrong adding some butter or olive oil to something that is missing a little creaminess. I have corn starch in my pantry if something needs to be a little thicker, like a sauce for my chicken or a soup that is a touch too thin.

4. What does meal time look like at home right now?

At home meals are simple, I love to open a container with only a little bit of something left and finish the last of it so I can wash or recycle the container and make room in my fridge. Left over bones from the pork chops or roasted chicken make a small amount of stock that will be the sauce for my next chicken, or to stretch out a soup. That last bit of turnips and green beans can go into my salad for lunch, or I'll shred the last of my chicken, toss it with some BBQ sauce and put it in my quesadilla before I warm it up.  

5. You have a busy life and early mornings—what gives you the energy to stay sharp throughout the day? What do you feel best after eating?

I eat an apple every morning and then taste food up until lunch time. Our family meal salads have to have raw vegetables like broccoli, cabbage, carrots, or brussels sprouts. Even a tiny amount of that gives me energy and focus to finish my day. For dinner Indian food makes me feel the best. A simply prepared vegetable with rice, dal, yogurt, and spicy pickle(eaten with my hands), gives my mind and body a sense of nourishment that no michelin star chef can replicate.

6. Anything you're proud of with our menus these days that may otherwise go unnoticed?

I am proud that our menus have been able to stay true to our mission of using local, seasonal ingredients that support local farmers and regional supply chains. We have been able to lean on our network of farmers and give them consistent business during an otherwise tumultuous time for them.
0 comments