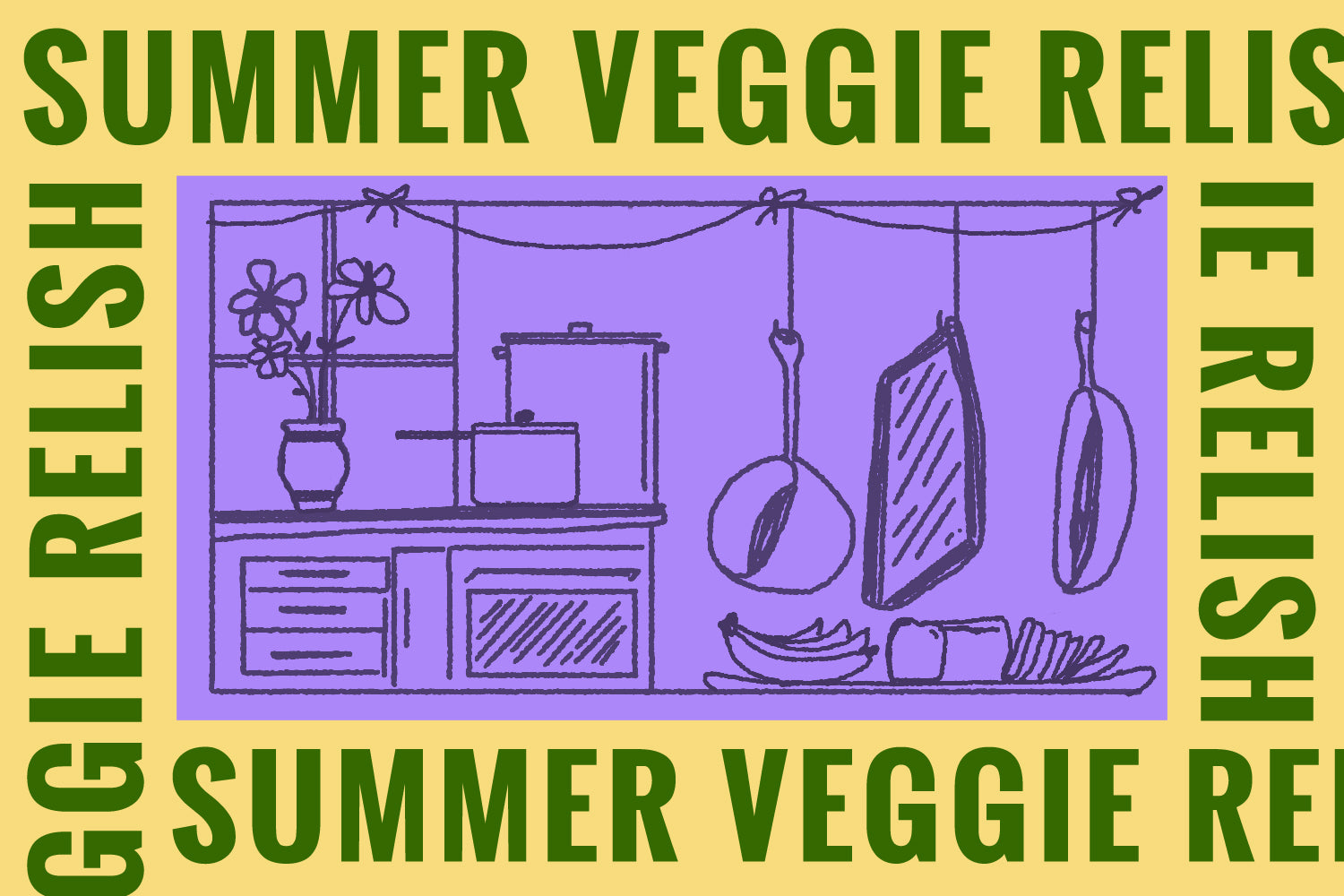 2-Step Recipe: Summer Veggie Relish
0 comments
All of the vegetables in this relish are going to be cooked separately and then gently mixed together with cherry tomatoes, fresh herbs, and lemon. If you have access to a grill, you can use that to cook all your vegetables. This can be eaten right away warm, or reserved to be eaten later, hot or cold. It pairs nicely with a simply cooked piece of fish or chicken, or with the addition of a cup of cooked beans or tofu as a complete plant based entree.
Directions:
Step 1

Place a large saute pan over medium heat and allow to warm through. Add the shishito peppers and let them blister in the dry pan then reserve in a large mixing bowl. Next, add about 1 tbsp of olive oil to your large saute pan, then add the eggplant, flat side down, and saute until golden brown. Turn the eggplants over and season them and touch them. If they feel soft then add them to your mixing bowl, otherwise continue to cook for 1-2 more minutes. Add 1 more tbsp of olive oil then saute your corn. The corn should cook quickly, 2-3 minutes, then season and add to your mixing bowl. Add another tbsp of olive oil and then lightly saute half of your garlic before adding your zucchini chunks, flesh side down. Cook until golden brown then turn over, season, and reserve in your mixing bowl. The zucchini doesn't need to be soft like the eggplant, as soon as you see the color of the squash brighten it is ready. Repeat the process with the yellow squash.


Step 2
Add your cherry tomatoes, fresh herbs, lemon zest and juice to your mixing bowl and gently fold the vegetables together. Adjust the seasoning to your taste and enjoy!



Ingredients: 

Cooked separately
Olive oil
10 Shishito peppers (about 1/2 quart)
2 Cups mixed eggplant, stem removed and split in half (about 1/2 quart)
1 Cup corn kernels (about 1 ear)
2 Cloves garlic, sliced or minced
2 Cups zucchini, cut into bite size dice (about 1 piece)
2 Cups yellow squash, cut into bite size dice (about 1 piece)


To finish
1 Cup cherry tomatoes, cut in half (about 1/2 pint)
Fresh dill or parsley, chopped
Juice and zest of one lemon
Black pepper/Cayenne
0 comments