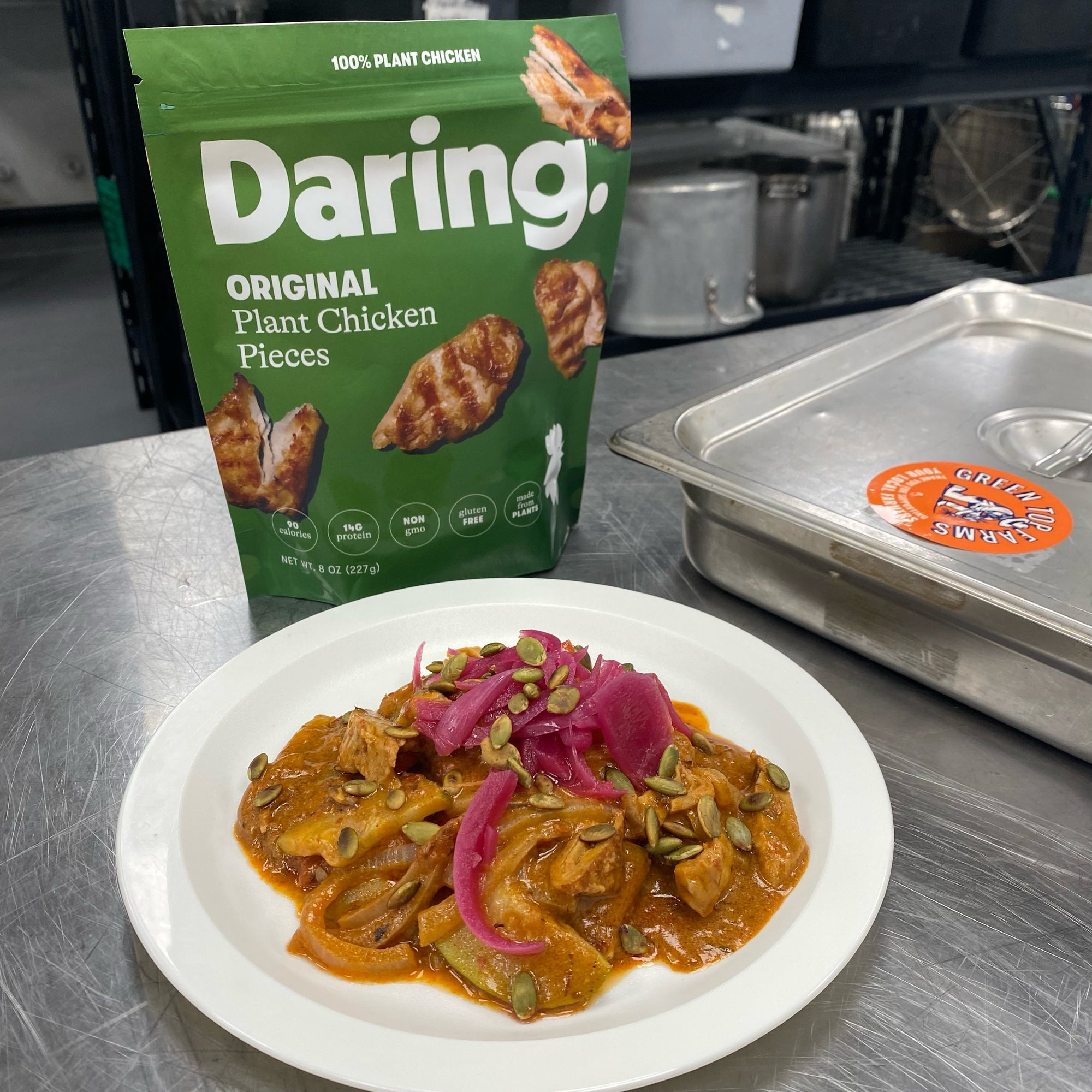 Daring Mole Chicken Recipe
0 comments
At Green Top Farms, we prioritize making appetizing and flavorsome meals that can be enjoyed by folks of all dietary restrictions and diets. Particularly, we take value in promoting plant-based options in our meals as a method of fostering sustainability. In the past few months we've partnered with Daring Chicken Products to create vegan versions of our favorite chicken dishes. 
We had the Daring Chicken team come by our kitchen to test out one of our favorite dishes using their product. Chef Wendy prepared our Daring Mole Chicken dish. Check out the video here and grab a bag of Daring Chicken and try this recipe out at home!
Daring Mole Chicken Recipe 
This is a generous portion for two, cause you're going to want seconds!
Ingredients
2 teaspoons of canola oil
1 cup of pumpkin seeds
1 teaspoon of oregano
1 ounce of yellow onion
1 ounce of Guajillo Peppers
1 can of chipotle peppers
3 bay leaves
3 ground cloves
1 teaspoon of white vinegar
1 ounce of water
Salt to taste 
Start off by boiling the guajillo peppers in water until they are soft. 

While the peppers are boiling, toast your pumpkin seeds until fragrant.

Next, blend the toasted pumpkin seeds, guajillo peppers, and chipotle peppers. Slowly add water to the blending mixture. 

Once blended, add canola oil to a large skillet. Wait till heated, then add the mixture to the pan. 

If possible, place bay leaf and cloves into a cheese cloth and add to the mixture. If not, add them into the sauce and don't forget to remove them at the end!

Reduce the heat to a simmer and cook for 20 minutes.

Once sauce is cooked, cut your daring chicken into bite size pieces and add to the sauce. 

When ready to serve, sprinkle extra pumpkin seeds on top. Enjoy!
0 comments