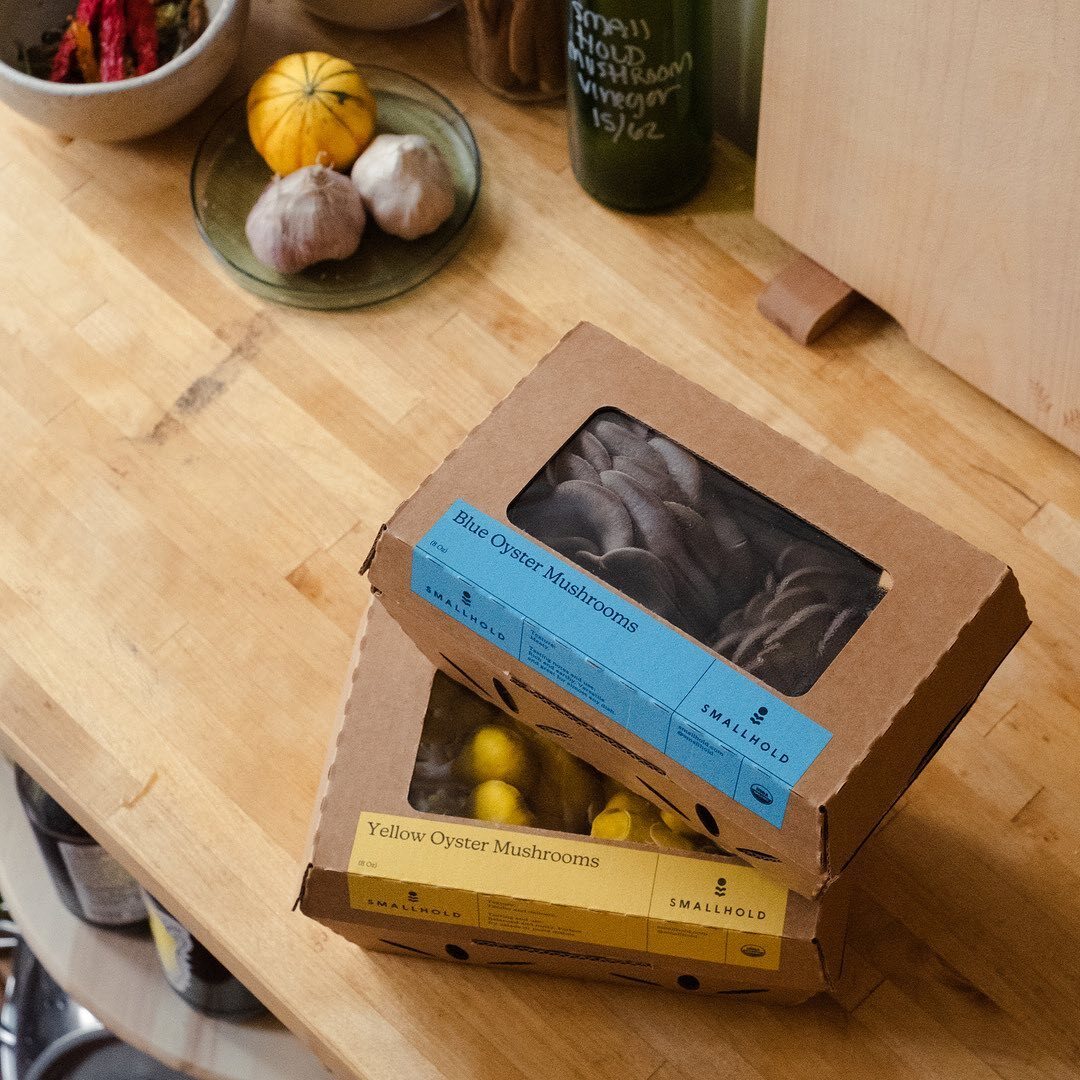 Mushroom Lasagna Recipe Card
0 comments
Hey ya'll! A few months back we teamed up with Smallhold to make this great Mushroom Lasagna for Earth Day. It was a real hit amongst our clients, and we're excited to share this recipe with you all to try at home. It's got a whole lotta mushroom, varieties of which can be mixed and matched with whatever type you've got on hand. This is a great entree for any dinner and is vegetarian friendly. Let us know how it turns out and enjoy!
Ingredients:
2 ½ cups of milk
1 bay leaf
3 oz butter
1/4 cup of all purpose flour
1/2 teaspoon of kosher salt
1/2 pound of red chard
4 tbl of olive oil
2/3 cup of yellow onion
2 cloves of peeled garlic
1/2 teaspoons of crushed red pepper
1 lb smallhold oyster mushrooms, torn
1 lb smallhold lions mane mushrooms, torn 
½ lb of lasagna noodles
2 tbl olive oil
1 cup of ricotta cheese
1/2 cup of fresh mozzarella cheese grated
2 tablespoons of grated pecorino cheese
Directions:
Béchamel Sauce
Bring milk and bay leaf to simmer in a medium saucepan, then remove from heat. Melt butter in a heavy large saucepan over medium-low heat. Add flour and whisk to blend. Cook for 2 minutes, whisking almost constantly (do not let the roux brown): Gradually whisk milk with bay leaf into roux. Add salt  and bring to a simmer. Cook until the sauce thickens enough to coat the spoon, whisking often, about 5 minutes. Remove bay leaf.. 
Swiss Chard and Mushroom Layers
Blanch chard in a large pot of boiling salted water for one minute. Drain, pressing out all water, then chop coarsely. Heat 2 tablespoons of oil in a heavy medium skillet over medium-high heat. Add onion, half of garlic, and crushed red pepper. Sauté until onion is tender, 3 to 4 minutes. Mix in chard and season to taste with coarse salt and freshly ground black pepper. 

Heat remaining 2 tablespoons of oil in a heavy large nonstick skillet over medium high heat. Add mushrooms and remaining garlic. Sauté until mushrooms are brown and tender, 7 to 8 minutes. Season with coarse salt and pepper. 
Lasagna
Cook noodles in a medium pot of boiling salted water until just tender but still firm to bite, stirring occasionally. Drain and arrange noodles in a single layer on an oiled tray..

Brush a 13x9" baking dish with olive oil. Spread 3 tablespoons of

b

échamel thinly over the bottom of the dish. Arrange noodles in the dish to cover the bottom. Spread half of the chard mixture over the pasta, then half of the mushrooms. Drop half of the ricotta over in dollops and spread in an even layer. Sprinkle half of the mozzarella cheese, then half of the parmesan cheese and spread ¾ cup of

b

échamel over. Repeat layering with noodles, remaining chard, mushrooms, mozzarella, parmesan and ¾ cup of

b

échamel. Cover with a top layer of noodles and ¾ cup of 

b

échamel.

Preheat the oven to 400 degrees. Bake the lasagna for 25-30 minutes until heated through and the top is golden brown.

Enjoy!
0 comments