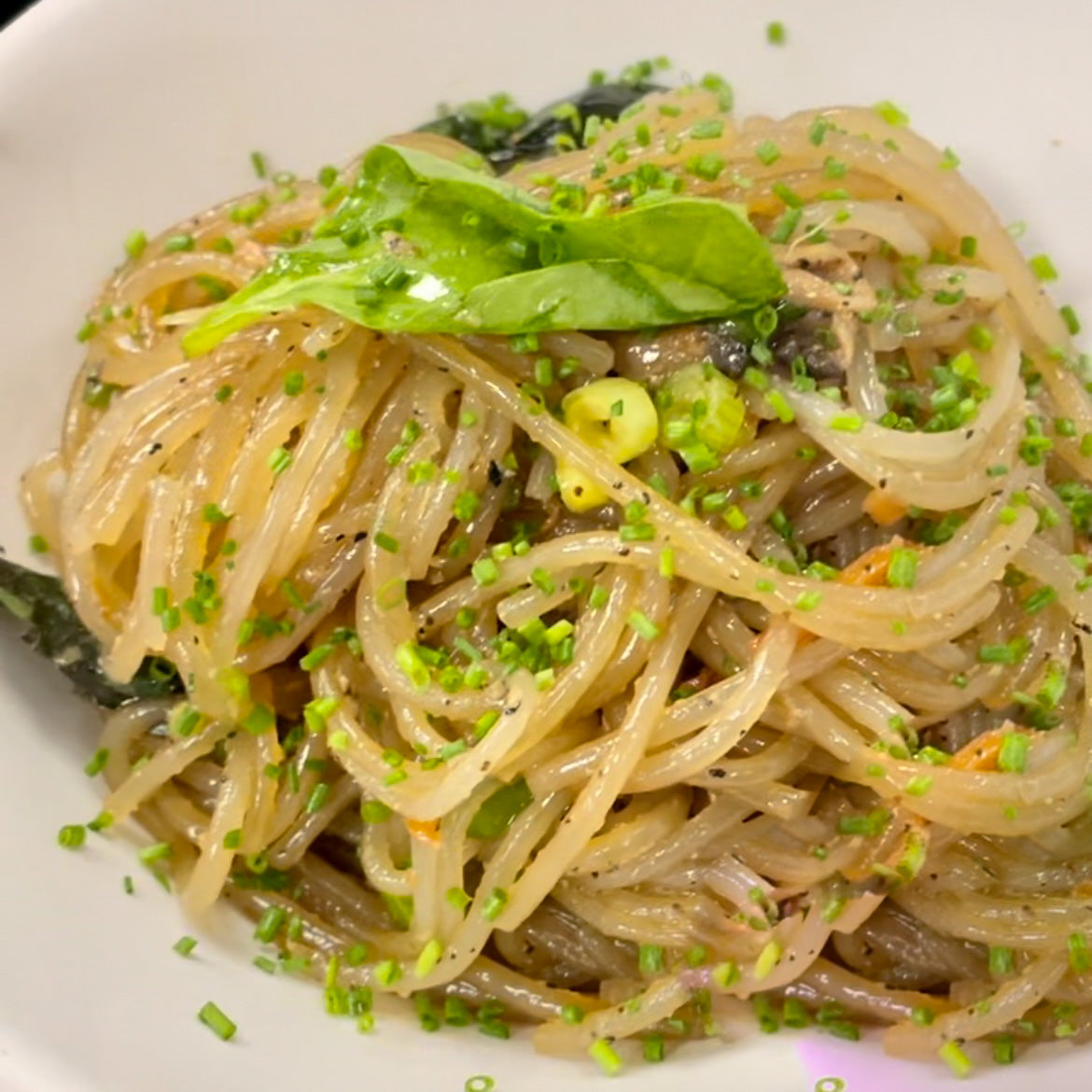 Wendy's Glass Noodles
0 comments
 A dish that draws inspiration from the chewy and silky texture of glass noodles themselves. Our Executive Chef Wendy Toribio chose these sweet potato starch noodles because of their versatility and ability to hold up to high flame stir-frys. 
Ingredients
10 ounces sweet potato noodles
1.5 ounces sliced 1/2" thick red peppers
4 ounces sliced 1/2" thick geen peppers
4 ounces julienne carrots
2 cups baby spinach
4.5 ounces sliced mushrooms
1 oz ginger garlic paste
1.5 fl ounces tamari 
2 tablespoons fish sauce
1.5 fl ounces canola oil
2.26 ounces sliced scallions
1 teaspoon ground black pepper
1 oz Thai basil leaves, torn
1.5 tablespoons sesame oil
Recipe
Boil glass noodles for 5-7 minutes. Rinse with cold water. Drizzle canola oil with a squeeze bottle onto noodles to avoid sticking.
In a large skillet, add the rest of the oil. Once the oil is very hot, add peppers, carrots, and mushrooms. Sauté for 5 minutes and then add ginger-garlic paste and ginger paste. Cook for another 5 minutes. Vegetables should be wilted and crunchy.
In a separate container, combine tamari, fish sauce, and black pepper. 
Add sauce to vegetable stir fry. Then add noodles, spinach, scallions, and basil last. Quickly combine and remove from heat.
Add sesame oil and stir thoroughly.
Enjoy!
0 comments